AutographBall

It all started prior to the year 2000 with a unique marketing idea for golf tournaments.  It was a slight lend on the big rubber tennis balls.  So the Autograph Golf Ball idea was born and launched at the Australian Open at Kingston Heath Golf Club in November 2000.
W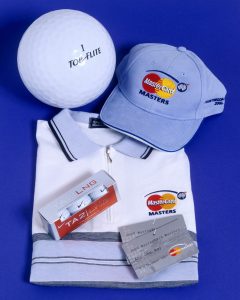 e love sports, but spend so much time on product development and testing that unfortunately we don't get to play as much as we would like. We see our products promoting the sports for the benefit of all involved. We like working with people that are like minded. Since the original Autograph Golf Ball we have developed other sporting alternatives like the Basketball and the Tennis Ball.  We also have smooth balls for the promotion and packs other sports like Ping Pong, Ten Pin Bowling, Billiards, Snooker, Cricket, Squash and even things like Lotto Lotteries and Bingo Balls.  And of course since the original ball we have seen the evolution of the product as packs and dining table centre pieces, money boxes and Point of Sale retail promotional products like cap stands! etc
We are based in Australia but with products that have world wide applicability, our reach goes to all corners of the globe.  And now a days a lot of our energies are one the marketing and promotion.  And we get excited as we find new avenues for our Sports Balls all the time.
Production of the Big Balls.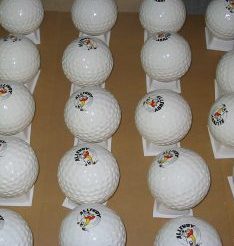 The latest Autograph Balls are all injection molded from precise metal tools.  But back in the year 2000 the first balls were vacuum formed.  Two molds.  Each mold being half the large golf ball and the mold made out of wood.  These wooden molds were painstakingly crafted to ensure a realistic and perfect dimple pattern.  The molds were then put in a vacuum former and square cut sheets of plastic were placed over top and heated.  Then the plastic sheet was lowered and vacuumed down over the mold so that the warm plastic went in and around the dimples on the dome shape mold.
Then the plastic is released and taken off the mold looking a little like a big hat.   The excess plastic was then trimmed off and the edges were deburred.  Finally the two halves of balls were glued together.  And in the early days, if the client wanted a logo.  Then the original plastic square sheet was screen printed before vacuum forming.  There was little distortion when the logo was centred.  Many early balls were created this way.
Then in the early 2000's our new design allowed injection molding of a perfect half ball each time.  The unique patented design of a universal half allows for flexibility and ultimately savings on shipping.  It also gives us a ball that opens.  This was a massive step forward over the early glued balls.
And now if clients want their logo on the ball they can be more simply pad printed or UV printed onto a blank half of a ball.  So much simpler!
We are protective of our product development, so we have patents and designs and trademarks either in application or granted for aspects of our intellectual property. Many of these extend globally.
We appreciate the feedback we get from clients and any photos returned of the products in use are a real treat.  So if you have any feedback please do write to us.
Finally, we say thanks to those that have helped us along the journey so far. We look forward to what lies ahead! "Fore"!!!!