The Autograph Ball is fabulous for charity fundraising at sports functions and events.  There are many, many ways you can incorporate the Autograph Ball into your fundraising strategy.  We've seen many great ideas with fabulous results for charities, clubs and schools.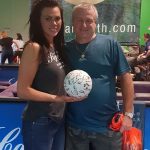 Examples include:
Auction of a signed ball.
– for Golf put the Autograph Golf Ball in the Scorers hut.
– for Pool get players to sign at registration.
Silent Auction of table centre pieces at a big Gala. Balls can be signed by a celebrity.
Put a further mystery gift item in the balls that are up for Auction.
Send the Ball as an invite and ask invitee to fill the ball with change and bring to the event. Heaviest ball (or ball closest to a random weight) wins a prize.
Gift up with items inside for sale.