These Big Golf Balls will look superb on the grass tees at your next golf club event. The Golf Tee Markers are perfect for your next corporate golf day, company golf day, club golf day or charity golf day!   The big plastic ball tee markers are a robust quality design made with premium plastic materials. The large shiny white golf ball look, with precise dimple pattern and depth, will be a hit at your next Golf Day.
Whether you have one special First Tee with a Golf Tee Marker logoed with your event details on it. Or you may have the full 18 holes with Golf Tee Markers with your logo on them.  The Teem Markers are easily placed on the golf tees slightly tilted up.  Every time your golf groups come to the tees they will have your brand reinforced. They look sensational.
The Golf Tee markers come in a number of options. They can come as a set of 2 balls (First Hole Set) or as 36 balls (18 Hole Set) the balls can be printed with your club, charity or corporate logo as a short run.  These logos can be full colour and we recommend 2 logos on the balls (front and back) so alternate logos can be shown at each of the golf tees.  They come with a premium plastic stand perfect for sitting on the tee area grass.
The Big Balls are easily placed on the golf course by the golf club ground staff. The Tee Marker sets come with small zip lock bags.  With a little bit of preparation, the ground staff can place a small zip lock bag of sand inside each Tee Marker to keep them from moving in high winds etc.  And the brilliant thing about that is your Golf Club ground staff can retrieve the Autograph Ball Golf Tee Markers after your Golf Round.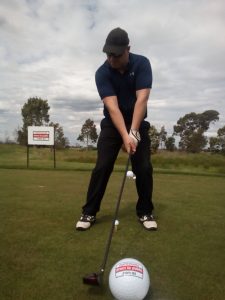 Then the Big Golf Balls can instantly be reused as Table Decorations at your after golf lunch or dinner function. While the players are refreshing after the golf game staff can place the balls on the dining tables.  And if you wanted more promotional golf value from these balls, then either store them for the next event or give the Big Balls away for golf guests to take as a memory of your event.   A great promotional golf product and souvenir of the Golf Day.
For Corporate Gold Days where businesses may be only sponsoring one of the 18 Golf Holes in this example photo we have a business logo sticker applied to 2 balls used as Tee Markers.  It provides a further cost effective way to reinforce a company brand with any golf day.
Tee Markers using the big golf balls with your branding will make a unique and novel addition to any corporate golf day or golf event.
They have always been very well received looking terrific, so contact us today. We think you'll be pleasantly surprised.