The Autograph Ball has a quality plastic surface that can be printed on directly.
The Logo, Image or Message
A lot of clients ask us if they can get a logo printed onto the front of the ball.  The answer is yes. And we can also offer the opportunity to get a logo on the back of the ball aswell.
We also suggest to clients that their logo should lend well to being printed on a dome top.  We print on a sphere and some logos may need alternatives. Many companies already have them.  It is an important consideration when trying to get the best size and look without any distortion.
Some company or brand logos have alternatives from full colour thru to 2 colour and 1 colour. It is worthwhile talking thru the various options and the resulting costs.
Printing and Labeling
Over the years we have engaged many methods for printing on the balls. We are always looking for cost effective options to get the best "bang for buck" of clients with the best quality results.
Normal Pad Printing on the Ball
For larger runs we consider using Pad Printing.  So this might be for orders of 80 to 1000 balls or more as an example.
Pad Printing is old school and works exceptionally well for larger unit orders.  However the printing requires each colour to be printed one plate at a time.  So plates need to be made for each print colour.  The more colours (max 6) the more the times each unit has to be printed on.
So logos with less colours can find cost benefit on smaller orders by pad printing. But a logo with colours will probably want to be 200 units or more.  An example of where a client might need 400 Golf balls printed is for use as a giveaway at a Golf Tournament or Sports Event.  Contact us for help in working out your best options.
Short Run Printing and Stickers on the Ball
For short runs we have a number of options available.  UV printing, Decals, Vinyl Cut, and Solid Stickers.
Yes we can do custom one off orders.
Determining the best Print option depends on a number of things.  So YES we do ask a few questions!
– How many balls do you want with a logo or message on
– Is the logo a single colour or how many colours are involved
– What is the shape of the logo?  Will it work on a dome shape well?
– What are you using the ball for?
UV Printing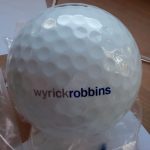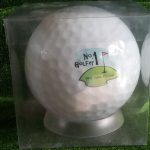 In recent years UV Printers has provided more great options for Short Run orders. The UV Printers take the full colour logo and print onto the half dome of the plastic ball in one sitting.  And normally for this type of printing a resultant logo print size around 65mm.
These balls can be handled and the print has a very good length of life.
Decal Labels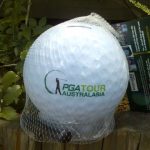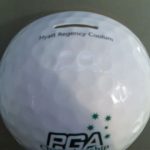 Decals are another labeling option where the logo is laser printed onto transparent slides. The logos are then cut out of the slides and soaked in water and then placed on the Golf Balls.
They then are allowed to dry.  The great option with decals is that we can customise a ball to include logos in various places on the ball.   These balls can be handled and have a fairly long lifespan for a sticker.
Vinyl Cut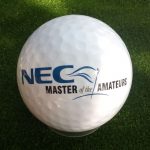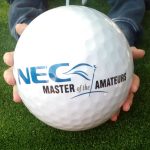 Vinyl cut stickers provides a further sticker option when the client wants a larger logo area that would not work well with a decal.   These are quite fiddly and can be quite expensive.
These vinyl cut letter stickers are laser printed and then cut out by the machine.  Then each sticker is applied to the ball one at a time.  The stickers are normally a little thinker then the decals so they don't like handling as much. Nor do they like dirt.
Stickers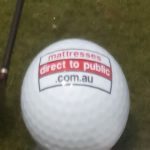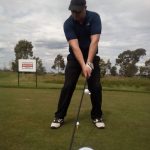 A cheaper option is the Stickers and can be great for one off balls that might only be seen from afar. Like a one off Tee Marker or a logoed ball for a POS on a shelf.
These can look great and be effective for the purpose. We can even supply the blank balls and the client can even apply their own stickers.
Etching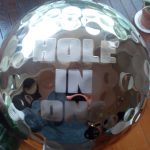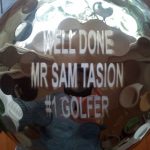 A further option relevant to our silver and gold metal plated balls is to have logos and words etched into the ball. This is a pretty good idea if you are looking to give a gift to a client and get their name inscribed.
It also works well for a present for a coach where you get the name and year etched in.  The players can then also sign these balls. We can also etch in some logos.  Make sure you ask.
Custom Messages and Logos
We do custom specialist printing as well for one, two or more balls.   If you need help with the logo or message there we can assist.  More examples of custom things we have been asked to print on the balls are:
– Thank You messages with a sporting image;
– Wedding messages with Love where the couple shares a sporting love too,
– Sporting Club logos and messages
– Happy Birthday messages with a sporting image; and
– Company logos for conference/seminar and expo displays
The examples are endless really.
And for specialist items we've also used decals in additional places on the balls.
In terms of timing for Printing, it does depends on the type of printing used and the number of units.
But as an example of a short run … we have been known to turn around in a week.
Please do note: Any printing we do must be of unique logos or with permission of the owners of the logo.
Custom We can do Special Messages as logos on balls for gifts and this can work for massages of
Thanks. Maybe for a coach from a sports team.
It's a Girl or It's a Boy
Longest Drive
Hole in One etc etc
For printing remember, that you can print or label  on both sides of the balls.  Back and front!
Examples of Short Run printing are balls to be used as Table Centre Piece decorations for a special Dinner Function (say 20) or for Golf Tee Markers (where you need 36 balls).   It could be you require 40 Sports Gift Packs for Christmas. These are just some of the applications.
If you have any questions regarding printing please do contact us with your enquiry.