The Autograph Golf Ball first came to be seen at the 2000 Australian Open Golf Championship at Kingston Heath Golf Club in Australia.
Over 10 years of refinement.
Robust quality design with premium materials.
Approximately 175mm in diameter weighing approximately 300gms and comes in 2 halves.
Shiny white golf ball look with precise dimple pattern and depth that feels like a golf ball.
A Premium product.
The Original Autograph Golf Ball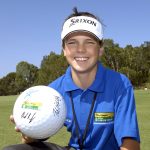 This is the original and the best Autograph Golf Ball. All the happy kids that have experienced the ball so far can't be wrong. It's a Signature Ball. An oversized plastic golf ball that opens and can becomes a gift pack
The Autograph Golf Ball has a polished white finish and realistic dimples that make it look just like a golf ball. Only it is a whole lot bigger. It's a jumbo plastic golf ball. A giant ball that is easily handled by children. It is the perfect souvenir for your next golf tournament. Player or Celebrity Signatures go on easily and stay on with a permanent marker pen. The ball is easily printed on aswell for golf tournament logos etc.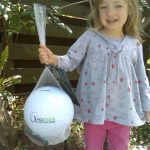 Perfect for the bookshelf or the trophy cabinet as the best of souvenirs from one of the tour events.  And for marketing companies that want to get brand penetration this product makes a lot of sense. It takes pride of place in the home or office. And if it is signed then even more value is applied to that memory.
Even golf schools have used this product for team signings. And it's perfect for the kids in the team to give as a gift to the golf coach.
Smart Design
The Autograph Golf Ball is manufactured in two halves which makes it perfect for shipping as the two halves can be seated inside each other with many balls fitting into a carton. And because the Autograph Golf Ball can open and close it can also make the perfect Golf Gift Pack. Yes you can fill the large plastic ball with goodies of tees and golf balls or towels and T-shirts.  Teddy bears, soft toys and promotional products are just some of the items that have been put into the Golf Gift Packs. The ideas are endless.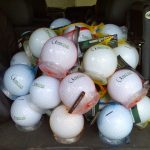 The ball also has a bank slot, so can be used as a money box. This is perfect for kids to keep the ball and save for their next Golf product. In alternative uses the money box golf ball has also been used for Golf Day attendees to bring in golf balls full of money they have raised for a golf day charity event. The balls were sent out early and placed in offices or receptions to put spare change. Prizes were given got the heaviest balls. Amazingly it all adds up and with 120 balls full of coins you can get a sense of the extra money raised for charity golf days.
Novelty Ideas.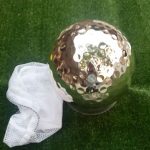 The novelty ideas for use continue and the Autograph Golf Ball is very successful when used as table centre pieces at that next Golf Function. A golf function decorations the giant plastic golf balls can look a lot better than just flowers.
The balls have come a long way and we even have gold and silver metal plated golf balls that look incredible as table centriepieces.  With these plated balls we can now etch into the surface a logo or a short message.  And these Autograph Golf Balls are certainly great for charity fundraising.
eg a player or a celebrity signs them and each table bids in silent for their own centrepiece.  An example being at a charity golf day dinner the 90 Table Balls were signed and each table silent bid on it's own signed Golf Ball Centre Piece. Each table bid over $100 on each golf ball. They can be simply sensational in raising charity funds. And you can even put a bonus mystery gift inside if you'd like to up the ante on the bidding.
So enquire now and get some of these fabulous large Golf Balls for your next golf tournament, the next Golf Club promotion or to create a terrific Golf Gift Pack or even Tee Markers.