We get asked questions and frequently those questions have been asked before.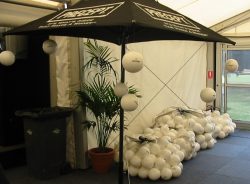 Do you ship your product around the world?
Yes we do.  Please enquire if unsure.
How long does it take to ship around the world?
For single orders or cartons that go by Air Freight it is normally around 7 to 10 days to USA, Canada, Europe.      In Australia balls can be delivered within 3 to 7 days.  If you want it faster then Express is available.
Can I get my Company Logo printed on the ball?
Yes you can.  The number of balls and the number of colours in the logo will determine the printing costs
Please see the page on Printing
Would you sell 1 blank ball to me?
Yes we can.
Would you print a logo or message on 1 or 2 balls for me?
Yes we can.
Do you hurry with your shipping?  Will I get the ball in time.?
If it is blank ball we try and ship immediately.  The time for custom printed balls varies.  First we need the logo or message okayed by you and we need these graphics in printable formats.  But YES, we do try and ship asap.  Please read our testimonials were we are proud to say customers have commented on our customer focus in a positive way.
Do you give discounts for bulk purchases?
Yes we do.   A carton of 20 or 24 balls is cheaper than 1 ball.    And postage is normally cheaper on average.
Do you have stock available?
Normally always. For larger orders or specialty balls and packs please enquire about any lead times.