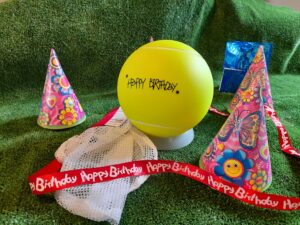 The Big Balls make for the ideal Birthday Balls for children and adults sports themed parties.  They are great to get the people at the party to sign and leave a congratulatory message of Happy Birthday.  Thus making for a fabulous keep sake for the birthday boy or girl.
The jumbo golf balls are made of quality plastic and are easy for party guests to write on with a permanent marker.
Long and short messages by birthday party guests can be captured on the giant golf balls.  Birthday messages like:
Have a great 17th Birthday Troy, Your golfing friend Mikey;
Happy 13th Birthday Julie, Love your golfing Nanna;
Jim, I hope your 10th Birthday is better than Par, Natalie.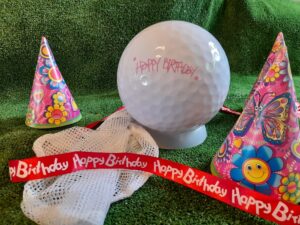 The jumbo golf balls are nearly 7 inch balls in diameter and open up and can have a Birthday gift placed inside. The giant golf balls can also be used as table centre pieces to help theme up any golfing birthday party.
For party plans we an even provide a jumbo party birthday ball for all the guests. The Birthday Balls could be filled with bags of birthday lollies and little party items.  A great thanks take away for coming to the Birthday.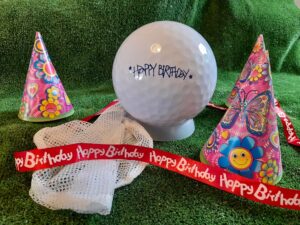 These Birthday Balls work exceptionally well for golf clubs, fun centres like Mini Golf centres and play centres with golf or sports themes.   Kids, and Adults love them and they can be supplied blank or with some Happy Birthday printing.  Then just add the Birthday persons name with puffy glitter stickers.  They look super!
We can do these Birthday Table Decorations in Golf Balls, Tennis Balls and Basketballs.