A New option for Tennis Marketing or Corporate Gifts

The Autograph Tennis Ball is super for receiving tennis or celebrity autographs. It's light in weight and made of quality plastics.  But the ideas for this Tennis Promotional products use are wide and many.
Tennis Sponsors can use the ball as a gift pack.  The ball opens and further gifts can be put inside.
Receive your tickets to a Tennis Event in a Tennis Ball gift pack!
The Autograph Tennis Ball looks super as a Corporate Dining Table centre piece.
It's great as a fund raiser for charity tennis events.
Looks terrific in retail point of sale displays.
Even real tennis balls can fit inside the Autograph Tennis Ball!
The design of the Tennis Ball has been refined over about 6 years as a premium product.
Robust quality design with premium plastic materials.
Approximately 170mm in diameter weighing 300gms and comes in 2 halves.
Yes it opens and closes
It has a Bank Slot
Textured yellow tennis ball look with precise lines and depth.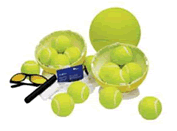 The autograph tennis ball has a brilliant yellow textured finish and realistic lines that make it look just like a tennis ball. Only it is a lot bigger.
It's perfect for the bookshelf or the trophy cabinet as a souvenir from one of the Tennis tour events.  Or you can create Tennis Gift Packs with it and fill it with great tennis items.

As it also has a bank slot it becomes a money box as well.   Perfect for juniors saving for Tennis equipment or club membership.  Even Tennis Clubs give the Ball to Coaches signed by the team as a gift and memory.  Even put a further gift inside!
It has a variety of uses and can be used as table centre pieces at that Tennis Dining Function.  These Autograph Tennis Balls can look a lot better than flowers.